Welcome to Facilities Operations
Facilities Operations is skilled trades, utilities, campus maintenance and minor renovations. We pride ourselves on knowledge, honesty, integrity, respect and professionalism. Our organization provides services to over 12 million square feet of buildings and infrastructure which supports a population of 27,000 students, faculty & staff.
Making a difference working together.
Our Services
---
Facilities Operations offers a wide array of services.
Urgent Requests
---
The Operations Center is staffed 24 hours a day to assist with urgent requests. If you are in need of immediate service please call the Operations Center directly.
Power Failures
Floods
Broken Glass
Elevator Failures
Snow & Ice
Contact Operations Center at extension
6-3113 or 860-486-3113
Energy Conservation at Work at Avery Point Campus
Facilities In The News
---
Facilities Operations Programs Develop Full-Time Employees
UConn's Facilities Operations employees are working behind the scenes to support everything that happens at the University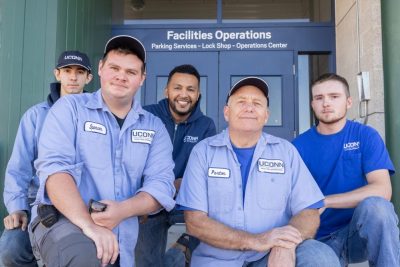 Facilities Operations In The News
---
UConn Program Helps Reduce Salt Use During Snowstorms
A UConn program is training cities and towns to reduce the amount of salt used on roads during snowstorms.
https://www.nbcconnecticut.com/news/local/uconn-program-helps-reduce-salt-use-during-snowstorms/2936491/